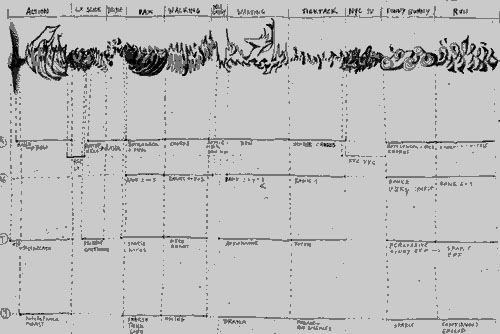 PUBLISHER DESCRIPTION

The musical identity of this trio remains consistent with their eponymus debut album, released five years ago – exemplified by fluctuating tonal centers and the interaction made of convergences and divergences. And yet, its components are now more clear, because the music feels more transparent: it sounds an American folk music from another dimension in the multiverse, a folk music filled with twisted and bizarre – but very explicit – rock and jazz elements.

No wonder: the guitar is played by one of the top rock musicians in Portugal, Tó Trips, founder and member of the country-fadorock-jazz band Dead Combo; the bassist is John Klima, an intermedia artist from Redondo Beach, USA, for some years living in Portugal, who in the past was involved with the pop-rock group later identified as The Presidents of the United States of America; the zither, the electronics and occasional field recordings are manipulated by a veteran of Portuguese experimental and improvised music, Adriana Sá. She has specialized herself in the interaction of her instruments and body with reactive software, and once again we see this in "Urban Season": her playing of the zither, with hands or bow, ignite all the electronic processing and found sounds as if by magic.

And magical, mesmerizing and mysterious the music is indeed, very different from everything else you heard before.
A MUSICAL SECTION

INSTRUMENTS

Adriana Sá: zither, reactive software (AG#3), field recordings,
graphic score, direction, mix and production
John Klima: electric fretless bass and overdrive
Tó Trips: electric guitar and percussion

The AG#3 software processes sound and image based on amplitude and pitch analysis from the zither input. Bellow is a video thst reproduces the sound of AG#3 without the sound of the zither. In performance, the image is projected over the musicians, working like a stage scene.
| Related research

TECHNICAL CREDITS

Recorded by John Klima at ScratchBuilt Studios, Lisboa, August 2017. Mastered by Rafael Toral at Noise Precision. Executive production by Travassos for Trem Azul. Graphic design by Mackintóxico.

Thanks to Sei Miguel for his musical observations during the mix process.Thanks also to everybody who inspired the field recordings, and by extension, the audio samples processed with the software that operates based on the zither input: Phill Niblock, Shelley Hirch, Erin MacGonigle, Toshio Kajiwara, Katherine Liberovskaya, Melissa Lockwood and many others.

REVIEWS

"Let's just start with this: Urban Season is home to the most compelling use of field recordings this side of Steven Stapleton's Nurse With Wound. Listening to US, I found myself physically leaning in in an attempt to uncover what in the world was happening sonically within its mysterious backdrop. Though the secret was never quite revealed, the attempt made for great sport.

The foreground of the 21st century string band Timespine is made up of zither player Adriana Sá, bassist John Klima, and guitarist Tó Trips, also of Portuguese band Dead Combo. There is a fascinating chemistry between the three musicians, who interpret Sá's graphic scores with grand sensitivity and innovation. Though electronic manipulation is utilized in sculpting an inexplicable vibe, it never interferes with the fact that three musicians are interacting in a profoundly creative act.

Because such a substantial leap forward has been made from the Portuguese group's eponymous debut release, also on Shhpuma, I can only imagine the volume of brains that will melt upon release #3. Excelente trabalho!"